Zoom.ai is the smartest way to automate meeting scheduling and simplify booking
Zoom.ai is an AI-powered meeting scheduler built to help you connect and book faster, so you can get back to focusing on your clients.
Zoom.ai handles all your 1:1, group, and video meetings for seamless scheduling.
It's your helpful meeting assistant (think Pam Beesley, but it won't leave you for art school.)
Using AI, Zoom.ai syncs with your calendars, requests meetings based on your availability, and sends automatic reminders to attendees — totally Dundie Award-worthy.
The personal scheduling URL allows your clients to pick a meeting time based on your real-time availability.
With Zoom.ai, you can share your own scheduling URL, giving your clients the ability to pick a meeting time based on your real-time availability.
Whether you're meeting with multiple internal and external stakeholders, or having a cozy 1:1 with your work BFF, Zoom.ai finds the best time to meet based on the requirements that you set.
You can rest easy knowing that all your meetings will be booked as fast as possible.
Say hello to your web dashboard, featuring an at-a-glance view of upcoming meetings!
Zoom.ai is compatible with Zoom.us, Microsoft Teams, Google, Webex, and more.
So no matter which video conferencing platform is your fave, you'll be able to connect Zoom.ai to auto-populate conferencing links in your scheduled meetings.
You can even embed a Zoom.ai scheduler directly on your website, turning visitors into qualified leads faster and replacing the need for a contact form on a sales contact page.
Plus, if you need to charge a fee when booking your online classes, consultations, or other 1:1 paid sessions, the Collect Payments feature has you covered.
Invitees receive a simple meeting confirmation, helping you avoid scheduling conflicts.
Thanks to AI machine learning models, Zoom.ai understands your work habits, meeting patterns, and relationship strength of contacts.
Using the People Insights feature, the tool pulls publicly available information associated with your invitees, along with information found in your connected CRM or ATS.
When you want to make a new connection, you'll be able to use the Warm Intros feature to identify which of your existing contacts knows them best.
Zoom.ai also knows the importance of teamwork (Alexa, play: "We're All In This Together").
You can schedule meetings automatically on behalf of other colleagues, assign meetings to any available team member, and share your team's collective availability with clients.
Use the Meeting Types feature to customize meeting settings like Priority and Shared Availability.
Best of all? Zoom.ai helps you prioritize work-life balance.
The Meeting Types templates let you easily customize your meeting settings, and then reuse these settings for faster meeting scheduling.
That means you can avoid back-to-back bookings, or automatically book over internal meetings to prioritize busy clients.
No matter what, Zoom.ai ensures that all your meetings happen exactly when you want them to.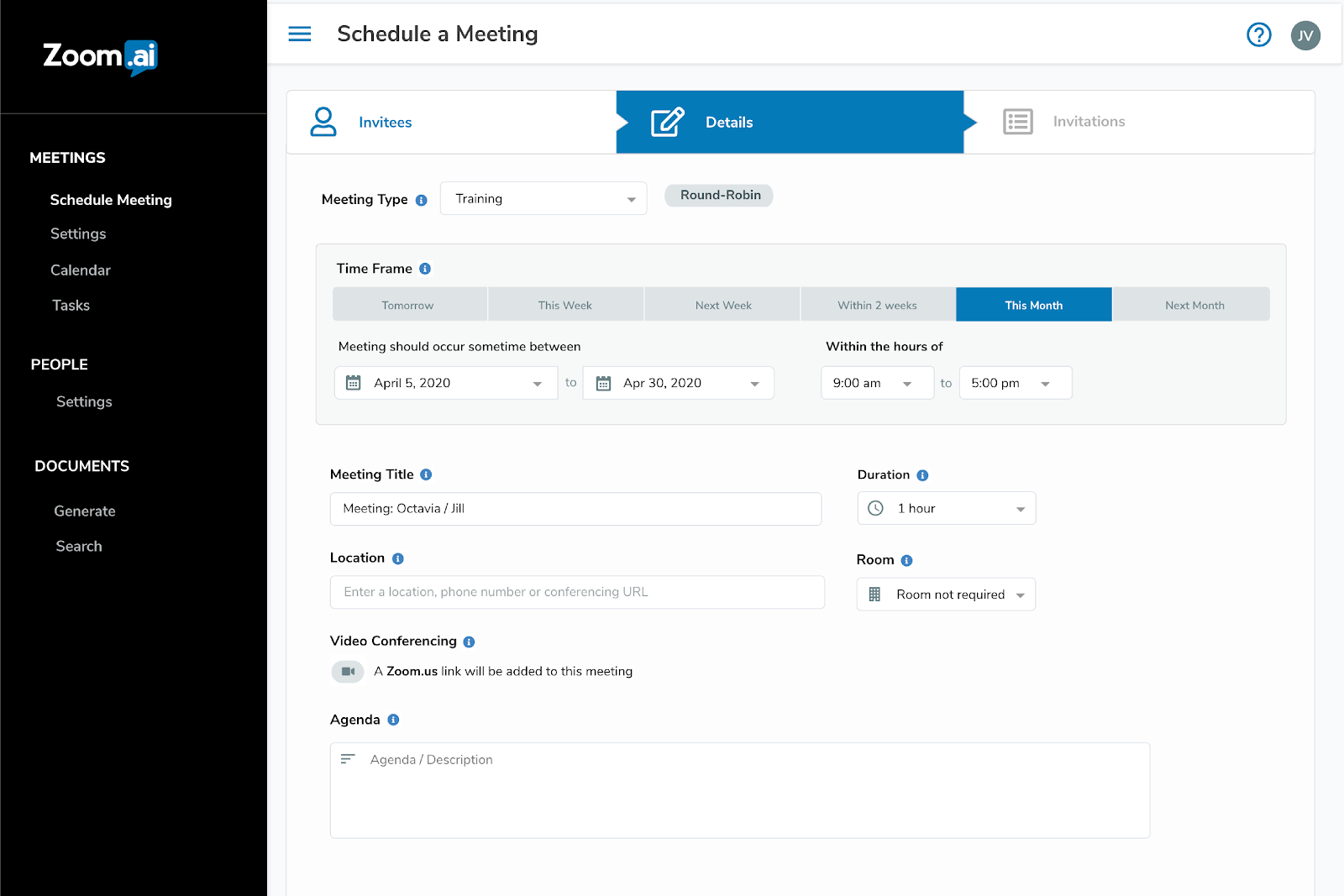 Easily schedule a meeting via your personal scheduling link or the web scheduler!
The awkward "What do you wanna do?" "I don't know, what do you wanna do?" back-and-forth doesn't make for great dialogue in romcom.
That goes double when it comes to scheduling for your business.
Zoom.ai takes care of all the pesky logistics of scheduling, so you can get back to growing your connections.
Get lifetime access to Zoom.ai today!