Wave.video is a full-featured video editing suite with stock assets, templates, and agile hosting
Wave.video lets you get started super quickly over 1,000 predesigned video templates.
The templates come in multiple formats with handy filters that help you select the best fit for your industry or occasion.
Swap the sample footage with your own or browse from over 200 million stock assets to find the perfect match.
After that, simply apply your own brand colors, fonts, logos, and graphics, and your video is ready to go!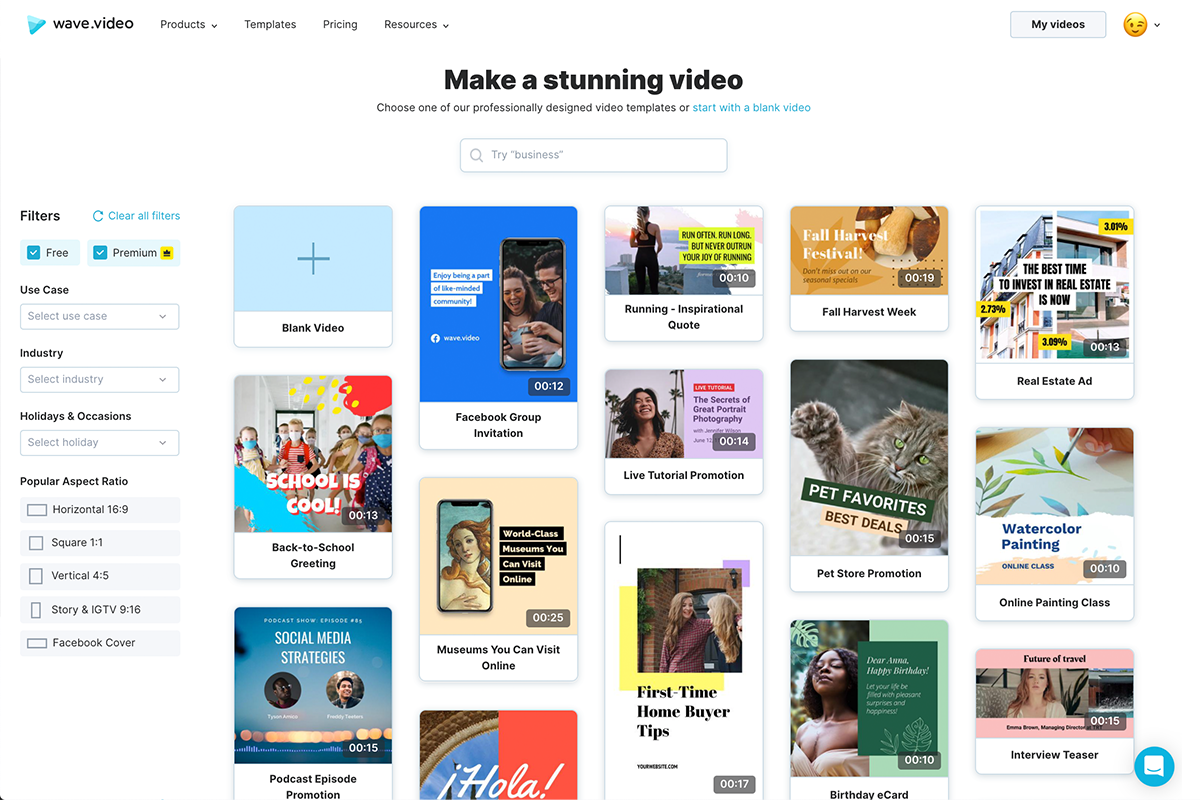 Choose from over 1,000 video templates and 200 million stock assets for great videos—fast!
Wave.video makes video design way easier with over 30 video layouts.
Choose from collages, frames, color gradients, borders, and more to give your videos that professional edge.
You can even add animated text and GIFs to catch viewers' attention.
As a bonus, you'll also gain access to the user-friendly Animatron Studio software to add fun banners or include animated videos that are sure to keep viewers hooked.
Access over 30 video layouts with included collages, color gradients, and more!
Captions make your videos more accessible, while letting people enjoy your content without alerting their bosses.
Wave.video's auto-captioning toolkit is powered by advanced speech recognition technology, so you'll get high-quality captions right off the bat.
Plus, you can change the caption style, font, and color before resizing your captioned videos for all platforms with one click.
Use auto-captioning to save time and boost accessibility, then tweak the style to your liking!
Every video you create with Wave.video gets its own landing page, too.
You can customize the landing pages for eye-catching elements and add headlines, descriptions, and calls-to-action for better conversions.
Your content will be front and center with no random ads or suggested videos stealing your shine.
Add Google ID or Facebook Pixel to track your results, and you're ready to go.
Use custom landing pages to hold viewers' attention without competing ads or videos!
Wave.video lets you incorporate your awesome new videos to your email campaigns, too.
Just input the auto-generated line of code into your email marketing platform, and a stylized thumbnail is added to the body of the email in the right size and format.
The thumbnail links straight to your video landing page, so everything's set to focus exclusively on your content.
Auto-generate a line of code to quickly add your video thumbnails and links to email campaigns!
Wave.video gives you hundreds of templates, millions of media assets, and customizable landing pages for top-tier videos with way less effort.
Sit back and give your marketing campaigns that extra boost.
Get lifetime access to Wave.video now!