Track and analyze what users are doing on your site with Plerdy
You can see scroll maps, scroll depth, idle mouse, text selection, cursor hover, and click sequence as they appear on your live site, not a screenshot.
From there, you can analyze user clicks and actions based on dynamic elements, as well as segment data from different traffic sources or devices.
This feature alone will show you valuable insights into what's working, and what's not.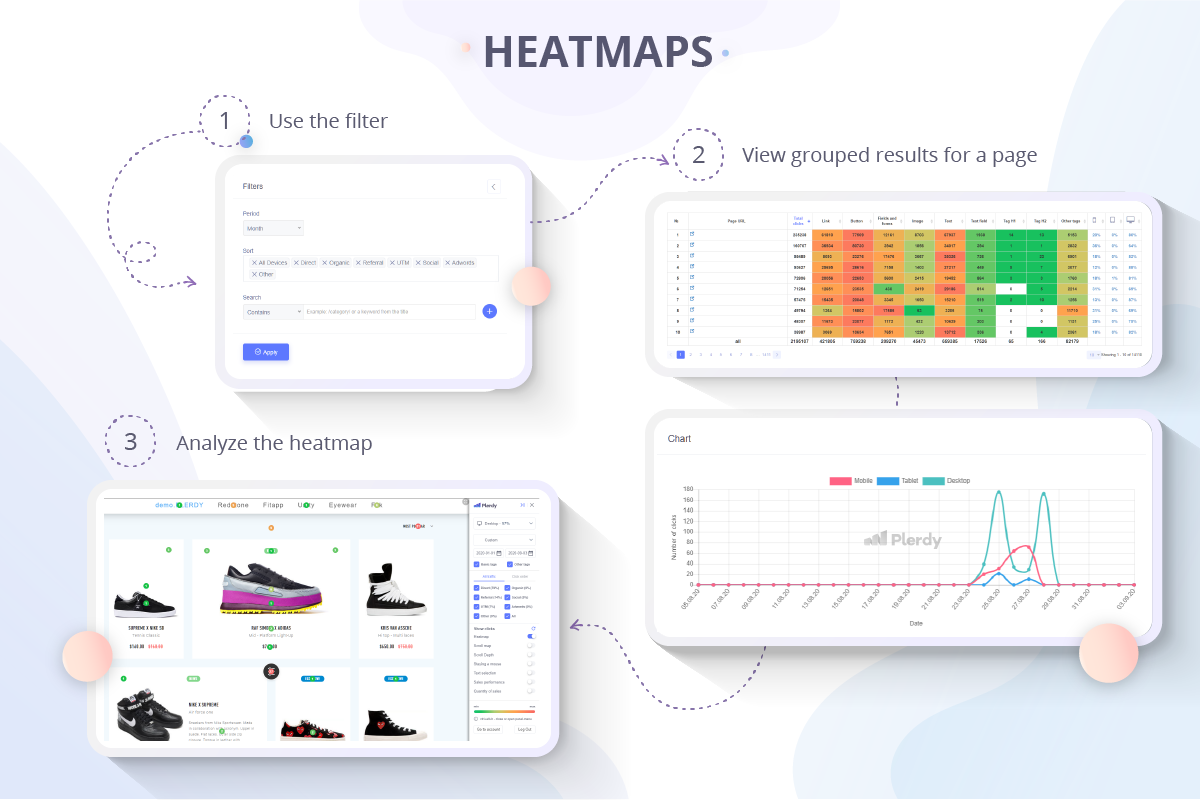 Heatmaps offer live evaluations of user behavior, including scroll maps, click sequence, and cursor hover!
Plerdy lets you use pop-ups to add quick functionality or gather information.
The tool offers more than 25 conditions and capabilities, like email collection, call backs, banners, and subscribe buttons.
Customize the pop-ups to fit your business, or you can use them to segment users into different groups based on their responses.
Even better, the pop-ups don't slow down your site loading times, since they're not present on the page when it loads.
Use pop-ups with 25+ conditions and capabilities to collect emails, subscriptions, and more!
The SEO checker makes sure you're not losing visitors to bad search engine performance.
Plerdy runs a quick daily analysis to give you a thorough SEO report, and you can select which tests you'd like to run to focus your efforts.
You can make corrections instantly and tap into a before/after mode that lets you record page changes to see new updates.
Plerds also lets you enable the Google Search Console API to analyze keywords and spot opportunities for content.
Plus, you can show all the reports in the SEO checker and Google Search Console API for mobile and PC separately.
The SEO checker shows you gaps in search engine performance and lets you make changes instantly.
Recording user sessions is a great way to get an up-close look of how users navigate your site.
With Plerdy, you can analyze the recordings for a specific type of traffic or device, segmenting the data down to more manageable sizes.
User session recordings let you analyze behavior for specific types of traffic or devices.
Plerdy also lets you optimize your conversion funnel by tracking the actual number of users who have gone through it.
Now you can view the numbers of users currently in the sales funnel by traffic and device types, too.
Plerdy even collects purchase and sales data to break down your most profitable traffic or device sources.
You can also see which elements of your store users clicked before you made the sale for insight in how to boost your design.
Analyze the number of users in your conversion funnel and find your most successful traffic sources!
Plerdy gives you detailed information on user behavior like heatmaps, traffic type, and session recording to make improving your website conversions much, much easier.
So give your website the best chance at success.
Get lifetime access to Plerdy today!