Intelli.tv is an interactive video tool
Create stunning interactive videos that connect viewers to your content in a unique way.
With users being bombarded by content everywhere, you need something that'll make your content stand out.
intelli.tv's interactive videos encourage your audience to engage by making them a part of your story.
The Intelli Design Studio is an intuitive tool that helps you add interactive elements to your video content in a matter of just minutes.
Offering simple drag-and-drop and point-and-click functionalities, the tool is easy to learn from the very first time you use it.
The Intelli Design Tool is intuitive and easy-to-learn, making designing interactive videos fun and hassle-free!
Intelli.tv lets you add a variety of interactive elements to your videos, including images, audio, and call-to-action buttons.
You can enter in text using the Intelli Text tool for guaranteed typography that's sharp and attractive in any screen resolution.
You'll also be able to insert breakpoints to stop the video at any point; create loops; include audio, images, animated GIFs, and pop-ups; jump to another point in the video; and much more.
Include web content in your video to encourage immediate actions, such as signing up for your email list or buying your product straight from the video.
With intelli.tv, you can add interactive elements to your videos like images, audio, buttons, and more to increase audience engagement.
While not every video can go viral, knowing your metrics can increase your odds.
Intelli Analytics was designed to capture users' interactions and give you better insights into how your audience responds to your video content.
You'll be able to determine which videos resonate best with your audience, so that you can try to replicate that success in future videos.
On the analytics dashboard, you can see stats like views, interactions, and play rate, looking back in time as far as the last 90 days.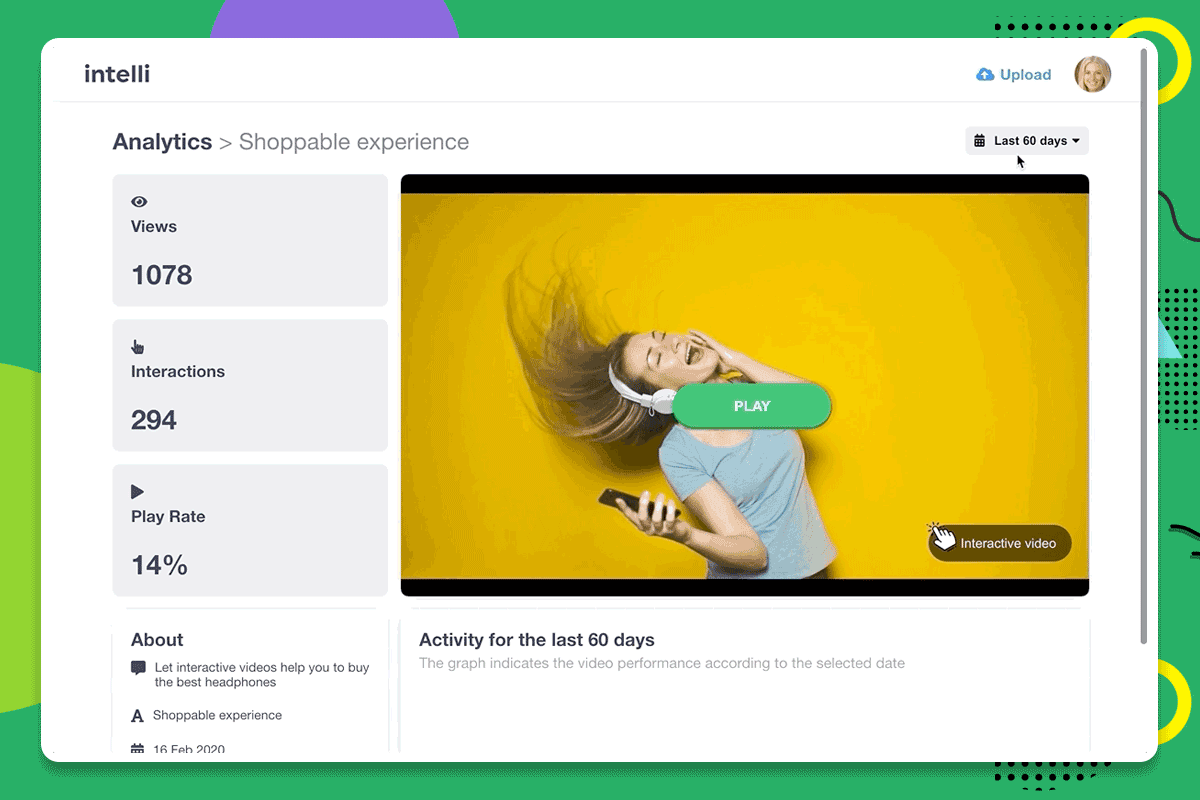 Discover which videos are providing the most value for your business with Intelli Analytics!
Tired of having to grab video content from different platforms? Keep all your videos in one place by hosting them on intelli.tv.
Intelli.tv's hosting is secure and private by default, allowing you to control who has access to your video content.
And when you're ready to share or embed your video, the intelli.tv library makes it easy to find your videos when you need them.
The intelli.tv video library is easy to navigate, keeping your videos secure and private until you're ready to share them.
Intelli.tv has carefully developed its UI to meet all of the highest standards in user experience and accessibility.
From day one, the software has been compatible with assistive technologies like screen readers to create an inclusive experience that all can enjoy.
That means that everyone in your audience (we mean it!) can interact with your video content!

Inclusivity is at the heart of intelli.tv, with an experience built to be compatible with assistive technologies.
There's no doubt that your audience's attention is pulled in many different directions throughout the day. (The internet has decreed that I look at this cute sponsored plush toy ad right now.)
With intelli.tv, any brand has the power to create engaging interactive videos that increase brand affinity and drive sales leads.
And with its intuitive functionality, you'll be on your way to creating fun, interactive videos in no time!
Get lifetime access to intelli.tv today!