An all-in-one growth marketing and business management platform with Erxes
The Team Inbox combines real-time client and team communication with in-app messaging, live-chat, email, forms, and more.
There are even response templates in the messenger that let you easily collect customer feedback or provide quick educational moments.
You'll be connected like never before, without switching between email and chat apps for every interaction.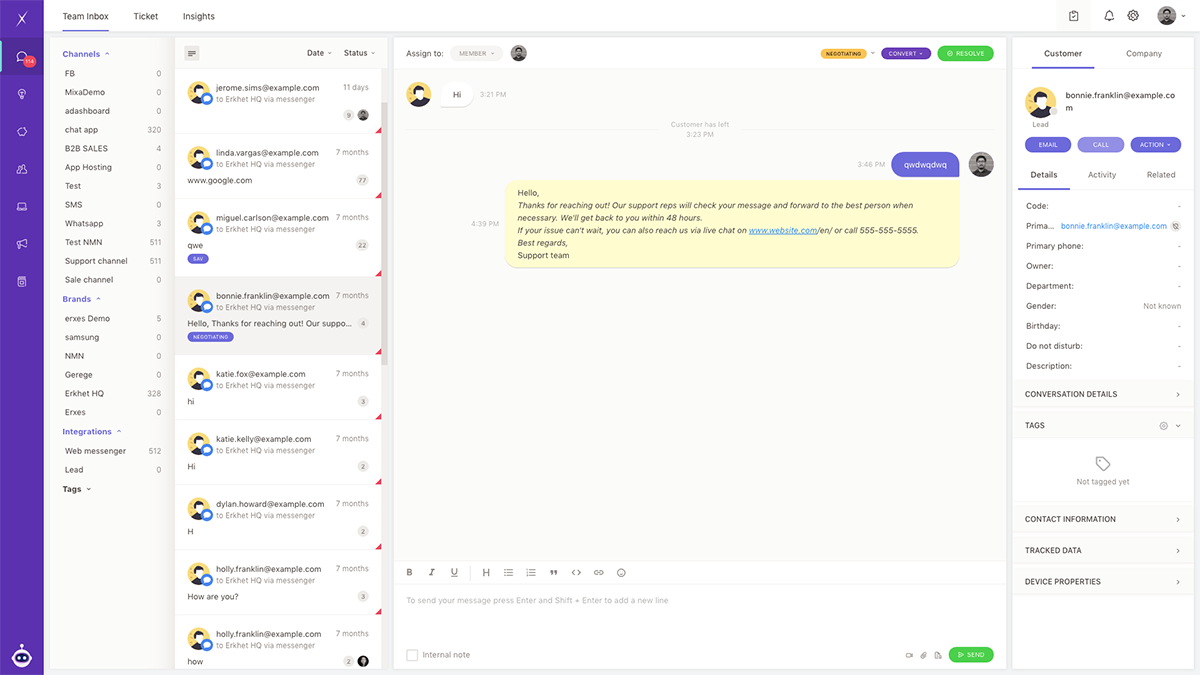 The Team Inbox features in-app messaging, live-chat, email, and even response templates to keep everyone on the same page.
Next, erxes gives you a super slick view of your sales pipeline with Kanban-style dashboards.
Plot out your pipeline steps to track exactly where clients are in the process, complete with assigned tasks and due dates.
You'll be able to see what's next on the agenda at a glance, as well as how close you are to landing that big sale.
View your entire sales pipeline in a handy Kanban-style dashboard!
At the same time, erxes lets you seamlessly engage with your customers to drive leads and boost prospects.
Reach out via email, SMS, messenger, or even pop-ups to make sure visitors have every opportunity to convert.
There's also the ability to set triggers that divide visitors into segments, allowing you to create automated, targeted messages geared toward specific actions.
Get ready to send out those high-five emojis for increasing conversion rates.
Engage with customers via messenger, email, SMS, and pop-ups.
The task management features include everything that your entire team is working on.
That means you'll enjoy visibility across your sales, marketing, and customer support processes, from one platform.
Know what your team is working on across sales, marketing, and support with comprehensive task management!
Of course, your business isn't done growing yet.
So erxes lets you leverage growth marketing strategies with pre-built templates.
Access all your growth marketing strategies from a single dashboard, complete with quick templates!
Your business is growing, and you need a platform that can grow with it while keeping everything organized.
With erxes, you'll get sales, marketing, task management, and customer service tools in one integrated tool.
Get lifetime access to erxes today!